Veloforte Account v2
Get more out of your fuel with your Veloforte account. There are two ways to benefit:
Whatever your goal, earn points each time you order and access monthly perks.


The world's best-tasting active fuel — delivered to you with unbeatable savings and convenience. Plus all the rewards and perks.
| | | | |
| --- | --- | --- | --- |
| | Non-member | Refuel Rewards | Refuel Subscriptions |
| Enjoy the world's finest active fuel | | | |
| Earn reward points on every order | | | |
| | | | |
| Track orders and checkout faster | | | |
| Save up to 15% on every purchase | | | |
| Early access to product launches & ambassador events | | | |
| | | | |
| Totally flexible subscription to suit your goals | | | |
Do I need an Account to collect Refuel Points?
No. You will collect points every time you shop, regardless of whether you activated your account, however, you will need to activate your account to access your points and redeem your rewards. To allocate your points to the correct account, it's important you use the same email address you used for past purchases. This will also give you access to your purchase history, allow you to manage your subscriptions and receive personalised content.
Activating your Account is free and only takes a few seconds. Simply enter your Name, Email and a Password.
Once your Account is active, you'll be able to see your points balance and manage your Rewards using the Rewards window at the bottom of your Screen.
How do I create an Account?
Creating your Account is free and only takes a few seconds. Simply enter your Name, Email and a Password.
Upon sign-up, 250 Bonus Points will be automatically loaded onto your Account balance and you'll be able to manage your Rewards by using the Rewards window at the bottom of your Screen.
I've shopped before, so why is my Account not recognised?
It's most likely because you didn't activate your Account yet. Making purchases on our website doesn't require you to activate your account, so try Creating your Account - it's easy and free, just enter your Name, Email and a Password. Always make sure you use the same email address your used for past purchases when activating your account.
Once your Account is active, your Bonus Rewards Points will be immediately available via the Rewards window at the bottom of the screen.
I already have a Veloforte Account, do I need to create another one?
No. If you already have an Account, then you have automatically been enrolled into Refuel Rewards and your points balance will be immediately available. Just make sure you're logged-in to see it... you can do that by clicking on the 'Account' icon (top right of the screen) or by clicking on 'Sign In' within the Rewards window at the bottom of the page.
Trouble Logging In?
If you think you have an Account, but the system says your email is 'not recognised' then please make sure you're using the correct email. Otherwise, it's likely you haven't actually set up an Account with us yet - shopping on our website doesn't require you to create an account, so you may have shopped with us many times before, but not elected to create a formal Account. Creating one is easy and free, so sign up now and take advantage of your Bonus Rewards Points.
How do I earn Refuel points?
There are many ways... from creating an Account to sharing Reviews and more.
When you sign up, we'll immediately add Bonus Reward points to your balance and from there you can also take advantage of all of the ways to earn - use as many of them as you wish. It's a great way to build your balance quickly and regularly.
Best of all, for every £1 you spend you'll get 10 Refuel points - these are added to your balance immediately after Checkout.
Spending them is easy too... from Free products to discounts, money-off coupons or on exclusive promotions. Simply check your balance, select the Reward you'd like to redeem and it'll be added to your basket.
Can I use my Refuel points straight away?
Yes. When you sign up your Account will be credited with Bonus Reward points which can be used immediately. There are loads of ways you can build up your Refuel points balance, from leaving a Review to sharing on Social and for having a Birthday! Take a look at the Ways to Earn and take advantage of as many as you like.

Points earned from a purchase will be added to your balance straight after Checkout, ready for your next visit.
So long as you have enough Points for the Rewards you want to Redeem, you can use them.
How many Rewards can I redeem at one time?
One Reward can be redeemed per order.
You can choose to redeem as many Rewards as your points balance will allow. Those Rewards will be 'saved' for you to redeem on future orders (one Reward per order). You can see these by clicking on 'Your Rewards' within the Re-Fuel window and you can choose to 'Add to Cart' by clicking on their respective yellow buttons or by copy & pasting their unique codes at checkout.
Some Rewards may require a minimum order value before you can redeem them (Details of all Rewards are found in the Rewards window at the bottom of the screen.)
So long as you have the Points you need, you can redeem a Reward - each and every time you place an order.
Refuel Rewards are not available to any Veloforte Retail, Event, Trade or Sponsorship partners. All Terms & Conditions and Policies can be viewed here.
Can I get money-off instead?
Yes. You can transfer your Refuel points at the rate of 100 points for £1. Use the Variable Rewards Slider (within the Rewards window) to choose how many of your points you'd like to redeem.
There is a minimum order value of £20 required to redeem this way.
You can't transfer your balance to someone else's Account. Your Refuel points are yours only.
How do I manage my Rewards?
Once you have created an Account, your Refuel Rewards are accessed from inside the Rewards window at the bottom left of the screen.
You'll be able to see what your balance is and what Rewards are available to redeem. As you use or accrue Refuel points you'll be kept up to date via email so you can be sure of exactly what your account looks like and never miss exclusive Membership Perks such as promotions, invites or events.
If you'd like to cancel your Account, you can do that at anytime by following the links within the Rewards window.
You can view all the relevant Terms & Conditions and Policies by clicking here.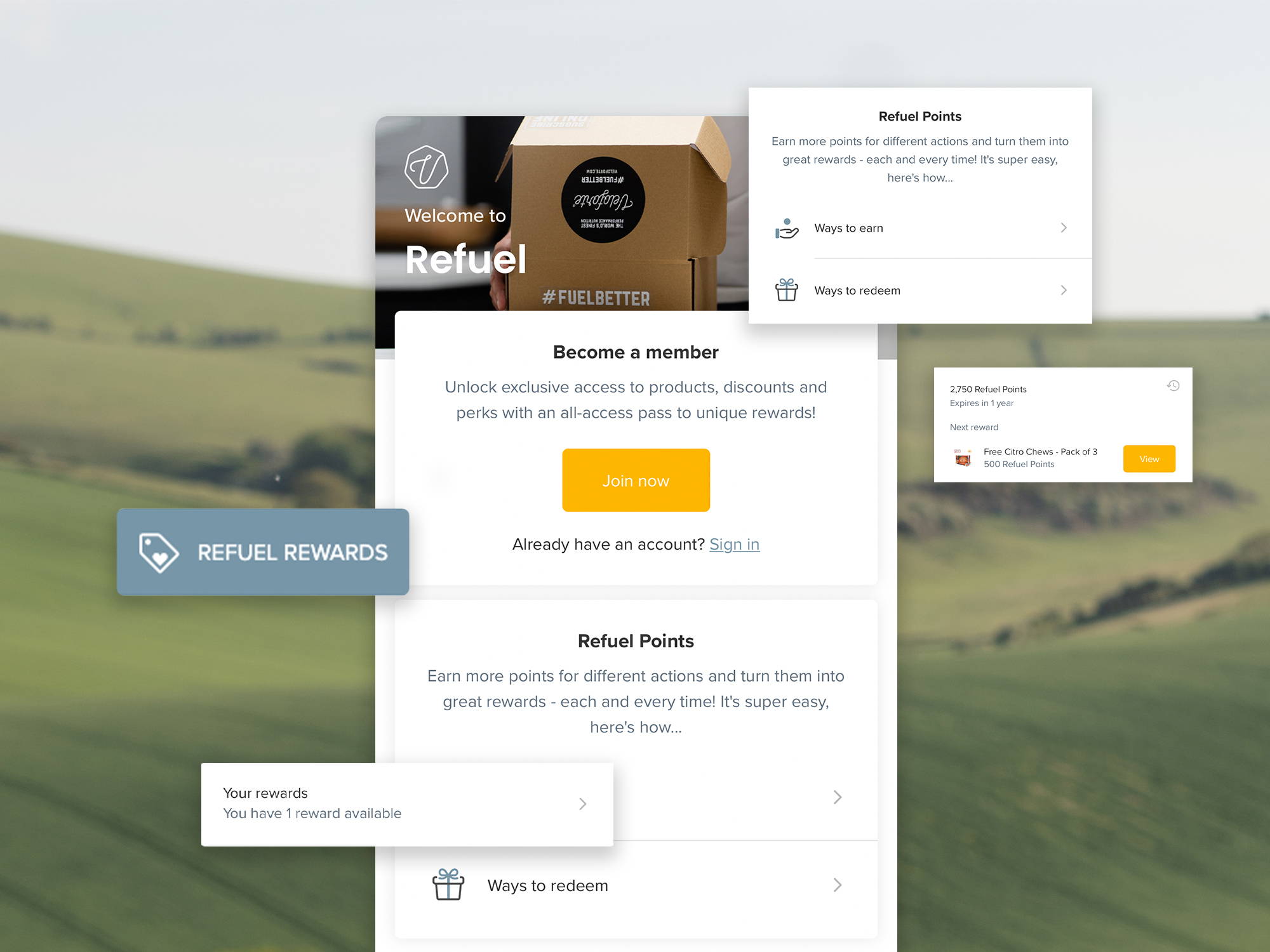 Can I redeem a Reward and use a Discount code too?
Not at the same time.
If you have a Discount code you can choose to use it or redeem Reward Points at checkout, but you cannot use them both together.
Every purchase you make will add Refuel points to your balance - whether that's on full-price or discounted purchases. You get the full value of the items (before any discount is applied) at the rate of 10 points for every £1.
Refuel Subscriptions FAQs
How do I change delivery frequency or cancel?
Your subscription, your way. Our flexi-subscriptions are designed to fit around your training, competing or busy active lifestyle. Some months you'll want to pause, others you may want to switch products - it's all easy to do in just a few clicks.
Simply create your Account or log-in by clicking on the person icon in the top right corner of your screen and manage using one of these buttons
Which products are included?
Every single Veloforte product is available as a one-time purchase or as a Subscription.
To subscribe, all you need to do is go to the product page you're interested in and select Subscribe & Save, follow the prompts and place your order. That's it!
Can I still buy one-time orders?
Yes, there are 2 ways to do this.
1. Head to the individual product page as usual and choose the one-time purchase option. Place your order, and it'll be dispatched out to you in the normal way. Any Subscriptions you might have are unaffected.
OR
2. Within Your Account page, go to your current Subscription, select 'Add Product' and choose something you want to include as a one-time purchase. This will then be added to your next Subscription delivery. One-time purchases that are added to Subscriptions are only sent out to you once. It's like topping-up your box whenever you want to try something new.
Can I redeem my Refuel Rewards points?
Yes, anytime you want to throw-in free products to your next Subscription delivery or use your points against offers and money-off you can do so.
There are 2 ways to do it:
1. When placing a new order, simply add the Reward code to into the discount box at Checkout in the normal way.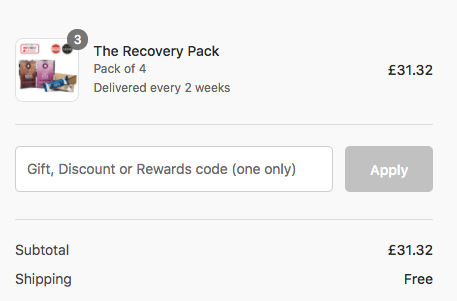 OR
2. When you want to use Rewards points or a discount code against an existing Subscription, go to Your Account page and click on the Manage Account link. Check how many points you have using the Manage Your Rewards button.

You will see a pop out option to Manage Subscriptions. Click this option, add your Refuel Rewards code in the discount box and hit Apply.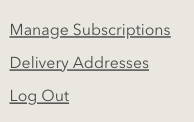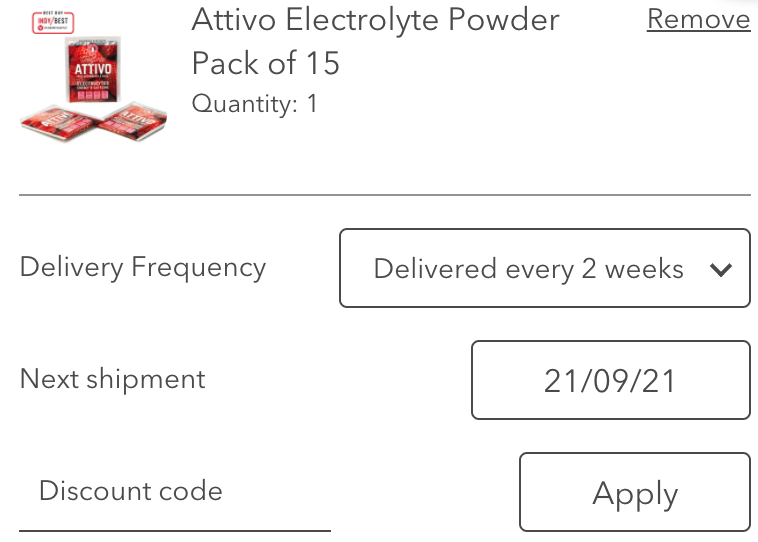 I'm going away, how do I pause my subscription?
To manage everything about your subscription, you will need a Veloforte account.
Log-in via the person icon at the top right of your screen and from here you will see your Upcoming Orders.

Use the dropdown to change Delivery Frequency or hit the Skip button if you're not ready for your next order.
Within Your Account you can:
Change the subscription frequency, skip, gift and spend rewards

Change the products you want

Change your personal details such as address, name and bank details
Will I be notified when I'm due to renew?
Yes, 3 days before your subscription is due to renew, we will send you a reminder email. You can either sit back knowing it's on it's way or decide to change the order or date of your subscription delivery - or you can pause or cancel as you wish.